Wearing different maxi skirt styles
When it comes to maxi skirt styles the options are endless but we have two key favourites: loose and floaty (perfect for the boho inspired look) or a classic a-line skirt with an elegant and streamlined silhouette. Both styles are equally stylish but create very different looks depending on your personal style.
A soft and floaty skirt will give a lovely feminine feel to your outfit. You can team this shape with a pair of strappy flat sandals on holiday or even some western inspired ankle boots for a casual boho style.
Meanwhile, a fitted long skirt will create a strong silhouette which can make a real statement. Heavier fabrics can add more definition to a streamlined maxi skirt and a pair of smart heels would give this look a real edge. Choose a style with an asymmetric hem, or even a dramatic slit, and team with a pair of high boots for some extra drama.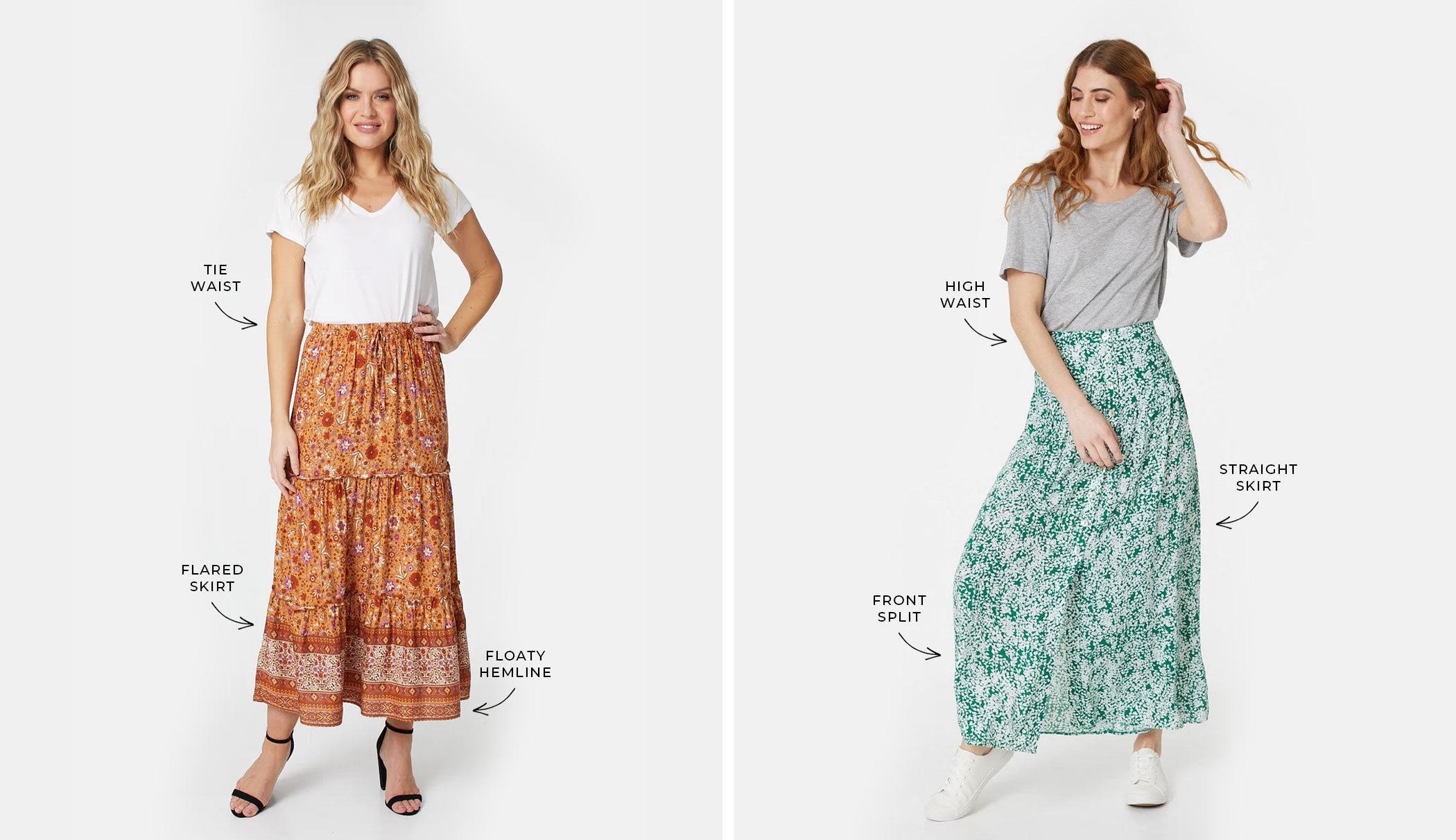 How to wear pleated maxi skirt
Pleats add great definition to a long skirt and are the perfect detail for a sophisticated outfit. Tuck in a soft, fitted blouse and tie the look together with a belt around your waist. You could also add a cropped tailored blazer to finish the look and a pair of stylish flats or ballerina pumps. For a party, tuck in a fitted t-shirt and embellish it with some statement chunky jewellery for some show stopping statement.
When picking pleats, make sure to consider carefully the fabric you want to wear. Different materials will give your outfit very diverse appearances. Also, it's worth noting that the pleat itself gives its own shape and character to your overall look. Think about this when deciding whether to turn up the volume by including a pattern or print, or whether to keep things more minimal with a solid colour.
How to wear a leopard print maxi skirt
The great thing about pattern is that its intensity can change depending on the fabric it's printed on. A floaty maxi skirt in a silky or chiffon fabric will still have maximum impact, but the overall appearance will be far gentler than opting for a leopard print on a heavier fabric. Choose which direction you want to go in and then have some fun complimenting this look with the right accessories.
Leopard print can also really handle accessories with a bit of drama, so feel free to go wild with a striking faux leather biker jacket, teamed with a fitted t-shirt – and if you want to go all out, add a shock of colour to contrast with the skirt's print and make a real statement.